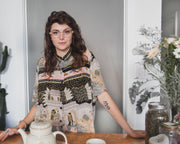 Herbalism With Lux -Reviews
Meets me where I am
Laura has been such an incredible support and guide. I have gone through so many mainstream medicine approaches and "alternative" approaches with little or no change to my digestive, nervous system and womb concerns. Through working with them I finally feel like healing is possible and HAPPENING! They have continuously listened to my concerns and I have never felt so deeply listened to by a practitioner. Laura seems to find a way to really hear and honour all the layers of my experience and finds the perfect plants to connect me with. My trust in the wisdom and healing capacity of my body is really expanding and it feels amazing. Thank you Laura!
Best investment I've made in myself
It was such a relief to experience such genuine care after navigating the medical system for years without seeing changes or feeling compassion from my Doctors. When I was called to take my health into my own hands and make some monumentally profound lifestyle changes, I knew I would need support and guidance along the way. Laura was so encouraging, knowledgable and validating which made all the difference on my journey. They were able to provide gentle herbs to soothe allergies, inflammation and anxiety, help me navigate a strict elimination diet and guide me towards various nervous system calming practices and rituals. Of course healing complex autoimmune symptoms isn't linear and is a lifelong commitment to learning and loving the body you are in and I still have ups and downs. My time with Laura was foundational to all the shifts that I have seen since and I am so grateful I chose to work with them.
I feel so supported
Laura has such extensive and detailed knowledge of herbalism and health, and also holds space with such care and grace. I feel so supported in working with Laura. They have so many good suggestions during sessions, and then I feel so supported and nourished in taking the herbs. I feel healthier now than ever. My sleep has significantly improved and so has my overall health. I can't thank Laura enough. Highly recommend!
Healing From Within
My experience working with Laura has been very refreshing! When I first thought of working with herbs I wasn't sure where to begin, but Their experience and knowledge in this field really put me at ease. I started with a custom tea blend and after a couple of weeks of using it, along with other recommended supplements, my stomach problems have improved and my overall mood has gotten better. Before our first call I had to answer a lot of questions to give Them an idea of what we wanted to work on together and They thoughtfully went over each category and explained what we should focus on first. This really helped me understand the whole process. No subject/question was off limits and Their professional demeanor helped me freely communicate and express any concern I had. I'm really looking forward to my upcoming session and I hope to continue my healing journey with Laura!
Vitality Custom Tincture
I am so happy with my vitality tincture that I made with Laura. I was having a lot of digestion issues still and this tincture works immediately for me in the morning when I'm having an upset stomach. Laura really listens to my needs specially when they change and is able to provide me the best custom tinctures every time I need some thing. I'll be back thank you Laura